Our Goal: Satisfied Tenants
Our Commitment: Manage our buildings to ensure the safety, comfort and security of our tenants. Respond to tenant concerns and requests efficiently and professionally. Operate our buildings as a part of the community - local and global.Strive to be environmentally responsible in all we do.
O'Shanter has been providing homes to people since 1955. We are a family owned company with international standards accreditation in both quality and environmental management. Our professional staff, commitment to excellence and tenant-focused approach have made us a premier provider of rental housing.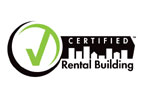 O'Shanter Rental Apartment Buildings are now certified. The Certified Rental Building Program was developed by the Federation of Rental-Housing Providers of Ontario to provide rental housing consumers with a quality assurance alternative they can count on when selecting their rental apartment home. Read more >>
We're different and what makes us different also makes us quite unique in the Property Management sector. O'Shanter Development Company's Property Management Team employs numerous in-house professionals including Certified Accountant, Engineer, Architect and in-house Lawyer . Our supervisory staff specialize in Operational and Project Management, Construction, Energy Management, Mechanical Systems, Heating, Ventilation and Air Conditioning, Electrical, and Plumbing.
Our Maintenance Department employs over 25 people including licenced, experienced electricians, plumbers, carpenters, fire safety technicians, appliance technicians. Many of our staff have been with the company for over 20 years. Housing all this available talent and expertise under one roof provides our tenants with a team of professionals working to ensure our buildings are managed professionally and efficiently.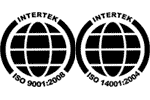 In addition to ISO 9001 certification, we also lead the industry in environmental management, earning the ISO 14001 certification. This distinguishes us from our competitors in the GTA as the only property management firm to have certification for both.